Job Description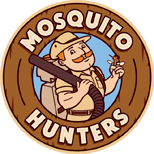 Job title: Mosquito Control Field Technician

Company: Mosquito Hunters


Job description: Company Overview
Mosquito Hunters helps homeowners enjoy their yards by providing mosquito, flea and tick control treatments.
We like to say that we are not in the mosquito business, we are in the loyalty business. Our focus is solely on forming positive relationships and providing support. By doing this, we know that profitability and customer loyalty will be inherent.
We are passionate about creating a remarkable customer experience and want to work with hardworking individuals who will represent our company with enthusiasm and integrity.
Job Summary
Mosquito Hunters Technicians are trained experts who apply mosquito control products to our clients' landscaping, participate in marketing initiatives, and provide a remarkable client experience.
Responsibilities
Represent the company and maintain a high level of customer service
Drive to each clients' home or business
Survey each yard for mosquito habitats and breeding grounds
Reduce or apply larvicide to standing water on the property
Apply control products to the surrounding foliage using a 60 lb backpack sprayer
Make recommendations to each client
Assist with marketing efforts like distributing door hangers or lawn signs
Qualifications
no prior experience necessary
be at least 18 years old
have valid driver's license
have reliable transportation
be able to lift a minimum of 45 lbs
enjoy working outdoors
be energetic, hardworking & reliable
possess excellent communication & customer service skills
excel in a position of independence & responsibility
be willing to take state licensing exam (we train & pay for this)
Benefits/Perks
$15 – $25 per hour ($12 per hour during training)
Sign-on bonus
Commission opportunities and retention bonus structure
Flexible scheduling
Autonomous, outdoor work environment
Develop professional skills
Customer service
Marketing & sales
Accountability
Helping to fight against Public Enemy #1
Candidates with the following experience are encouraged to apply:
Pest control
Lawncare & landscaping
Outdoor
Labor & home services
Customer Service
Drivers
High School Seniors (18+)
College Students
Someone seeking a 2nd job (flex schedule)
Gig workers (Uber, Lyft, Postmates)
Anyone who enjoys working outdoors (Arborist, Lawn Care, Painters)
Amazon warehouse
Sales or retail


Expected salary: $12 – 25 per hour

Location: Corpus Christi, TX

Job date: Tue, 20 Sep 2022 04:12:54 GMT




Location